Perfect Flooring for the Perfect House!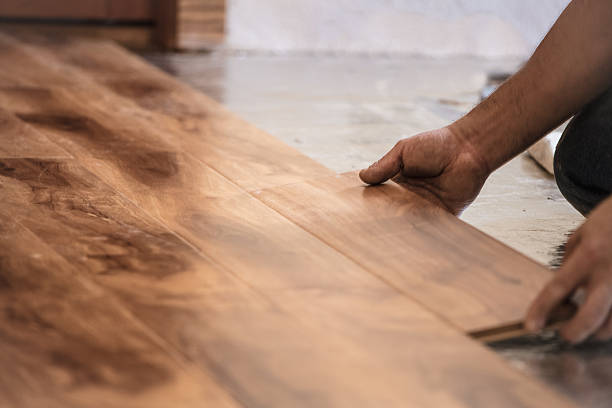 There's a common phrase that comes out of everyone's mouth when they step inside a home for sale to take a peek. And it goes a little something like this. I wish this house had hardwood floors, or I love the hardwood floors. Does that sound about right? I said it when I looked at homes with my wife, and she did the same thing. Now I see countless couples and individuals do it on those home reality shows on television. We all, or at least most of us, prefer the hardwood over the nasty carpet scene. There are plenty of reasons why.
Currently I'm trying to figure out how we could possibly afford hardwood floors at this point. I had a gentleman come to our home and give us an estimate, but didn't really enjoy what he had to say. After measuring our kitchen and living room area, he gave me an estimate of 12,000 dollars. YIKES! I looked at my wife with a cringe of disbelief. This couldn't be right. Not for only two rooms, which were not even all that large. Naturally we told him we'd have to chew on it for a while. This basically meant NO WAY. We were bound and determined to see what other places would tell us. So we called-up one more to acquire an estimate. A second fellow came out and did some measuring. This guy said around 6,800. HUH? What a difference! What happened to the 12,000 dollar estimate? This just goes to show that it pays to shop around for hardwood floors. It's sad how much more one company charges than another. Anyway, we decided to wait on it a bit. I'm not exactly ready to fork out the cash. Click here for some more amazing flooring options.
Do you have hardwood floors in your home? I can tell you there are a few advantages, having had them before. One thing I love about quality, durable hardwood floors is that they don't hold mud, dirt, grime, bacteria, and stains like carpet does. You can sweep and polish your hardwood floors and keep them looking great. Secondly they're awesome when you have children. Kids are notorious for spilling and smearing things on the floor. If you're dealing with hardwood floors, you can simply wipe the mess up. However, it's not so simple with carpet. Ponder the many ways hardwood floors could benefit your home.